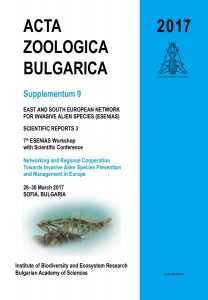 An international journal with free access in the area of diversity, ecology and animal evolution, issued by the Institute of Biodiversity and Ecosystem Research at the Bulgarian Academy of Sciences.
The journal is a successor to the first zoological journal of the Bulgarian Academy of Sciences entitled Reports of the Zoology Institute with a Museum (1951-1974). Acta Zoologica Bulgarica publishes original scientific articles, review articles and short messages in the field of systematics and phylogeny, zoogeography and faunistics, ecology of terrestrial animals, ethology, marine ecology, parasitology, palaeozoology, zoomorphology and developmental biology, conservation biology, applied zoology and other branches of zoology relating to the diversity, ecology and evolution of animals. The geographic scope of the journal is unlimited but priority is given to the fauna of Bulgaria and the Balkan Peninsula as well as to the adjacent regions (eg Black Sea, Danube Basin, Southeastern Europe). Descriptions of new zoological methods, short reviews or annotations of zoological books as well as information on scientific events (conducted and upcoming) are also accepted.
Acta Zoologica Bulgarica is published in English.
Impact factor IF 0.278 (2018).
ISSN: 0324-0770
Printed.
In English language.
4 volumes per year.
Editorial Address:
Institute of Biodiversity and Ecosystem Research — BAS
1 Tsar Osvoboditel Blvd, Sofia 1000, Bulgaria