Drinovsky Sbornik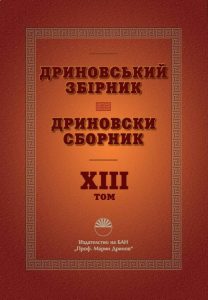 «Drinovsky Sbornik» is a scientific yearbook of the Bulgarian Academy of Sciences and V. N. Karazin Kharkiv National University dedicated to the history of Central and Eastern Europe from ancient times to the present day. The collection accepts articles that correspond to the profile of the publication, and which have not yet been published, as well as archaeographic materials, reviews and information about scientific conferences (symposia, seminars) or other significant events from the scientific sphere related to the subject matter of the publication. The yearbook features articles in Bulgarian, Ukrainian, Russian and English.
ISSN 2218-0567 (online) Printed. In Bulgarian, Ukrainian, Russian and English.
Editorial address:
6 Svoboda Sq., 4th floor, office 491-493, Kharkiv, Ukraine, 61022
Acad. Georgi Bonchev Str., building 6, 2nd floor, Sofia, 1113
1 volume is published per year.