Etudes balkaniques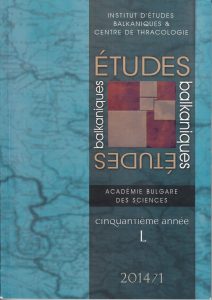 Etudes balkaniques is a quarterly, abstracted, peer-reviewed journal which has been coming out since 1964 to date. Studies related to the Balkan countries in French, English, German, Russian and Italian find their place on its pages, thus making them available to an extremely broad scientific community without borders.
The journal publishes information on various scientific events: publication of new works, announcements and reviews of international conferences, congresses and other forums dedicated to Balkan studies.
Its structure also includes interdisciplinary studies to help clarify specific issues of the socio-economic, political and cultural development of the Balkan countries seen from different perspectives and within their relations with other regions of Europe and the Mediterranean, from the earliest times till present days.
The Études balkaniques journal is a venue for meetings between researchers and university lecturers interested in the problems of the Balkans.
ISSN: 0324-1645
Printed.
In French, English, German, Russian and Italian.
Editorial address:
Etudes balkaniques
45 Moskovska Str.
Sofia – 1000 BULGARIA
E-mail: etudesbalk@gmail.com
4 volumes per year.