International Journal Bioautomation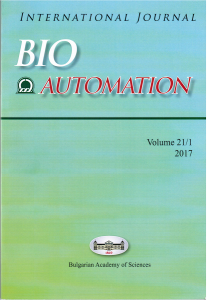 The International Journal BIOautomation is a continuation of the periodical Bioautomation, which was discontinued in the early nineties of the last century. It is an international journal for presentation of scientific results from the application of contemporary engineering and mathematical approaches and computer oriented methods for the purposes of analysis, modelling, optimization and control.
The International Journal BIOautomation comprises results in the main fields of:
Bioinformatics
Bioprocess systems
Biomedical systems
Biomedical physics
Bioecological systems
The International Journal BIOautomation is an open access journal offering everyone free and unlimited access to the full-text of peer-reviewed articles. For the authors, the journal allows holding the copyright on their articles without restrictions. Generally, the articles are distributed under the terms and conditions of the Creative Commons Attribution (CC BY) license, unless the authors choose any of the other Creative Commons licenses. A complete version of the articles is deposited in a standard electronic format (usually in pdf format) in the journal online, open access repository immediately on publication.
The open access publishing policy contributes to publications' high visibility and easier fostering of new scientific collaborations between scientists from all over the world.
ISSN: 1314-2321 (online)
ISSN: 1314-1902 (print)
In English language.
Editorial Address:
Institute of Biophysics and Biomedical Engineering
105 Acad. G. Bonchev Str, 1113 Sofia
4 volumes per year.