Literaturna Misal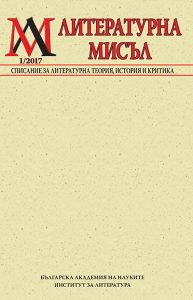 National journal with an international editorial board, published in 2/4 issues per year. In Literaturna Misal are published articles addressing issues of literary theory, history, criticism, and comparative literature. The publication is open to cultural studies, Balkan studies and all related humanities and has a special interest in border areas and topical ideas in the humanities as a whole.
The journal publishes texts in Bulgarian and English.
The full-text edition can be found at the Central and Eastern European Online Library (CEEO) at: https://www.ceeol.com/search/journal-detail?id=414.
The Liteturna Misal journal is included in the list of European Reference Journals in the Humanities, ERIH PLUS (European Reference Index for Humanities), ESF Standing Committee for the Humanities (SCH) and is indexed in РИНЦ (elibrary.ru).
ISSN: (print) 0324-0495
ISSN: (online) 1314-9237
Printed.
In Bulgarian and English.
Editorial Address:
Institute for Literature, Bulgarian Academy of Sciences
52 Shipchenski prohod Blvd., 1113 Sofia, Bulgaria