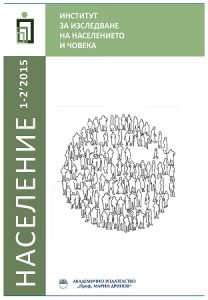 Nasselenie (Bulgarian for population) is an edition of the Institute for Population and Human Studies at BAS (IPHS-BAS), department Demography. Nasselenie Review is the only academic periodical specialised in the demographic development of Bulgaria, the European countries and the world.
The journal is bilingual – in Bulgarian and English. Nasselenie is open to authors also outside the Institute dealing with demographic problems both in Bulgaria and abroad.
International Editorial Board: The entire publishing activity is conducted by an International Editorial Board which includes authoritative and habilitated scientists from Bulgaria, Italy, the United Kingdom, the Netherlands and Greece.
Nasselenie review is printed in 150 copies per issue with an average volume of about 12 quires. It comes out twice a year: issue 1 (January-June), issue 2 (July-December).
In the organization of scientific forums and conferences and in the implementation of joint projects on current demographic issues, additional issues are published for the respective year in which the more significant papers and articles with obtained results are included in full text.
Indexing and abstracting: By 2000, the Nasselenie journal was abstracted by "Population Index" (US ISSN 0032-4701). Since 2007, it has been included in the Central and Eastern European Online Library in Frankfurt am Mein. The journal is also included in WILBERT.
In 2016, the edition received approval from EconLit and RePec and is currently working on meeting their technical requirements.
In 2016, Nasselenie journal won for the second time the Scientific Periodicals Competition of the National Science Fund at the Ministry of Education and Science.
Main columns of the journal:
"Birthrate";
"Marriage and Family";
"Migration";
"Demographic aging";
"Health Problems of the Population";
"Population projections";
"Demographic behaviour";
"Regional Demography";
"Economic Demography";
"Historical Demography";
"Population and Ecology";
"Ethnodemography".
ISSN: 0205-0617 (Print)
ISSN 2367-9174 (Online)
Printed.
Iin Bulgarian and English.
Editorial address:
1113 Sofia
6 6 Acad G. Bonchev Str., fl.5/6
+359 (0) 2 979 30 48
2 volumes per year: 1 (January-June), 2 (July-December).