Philosophical Alternatives Journal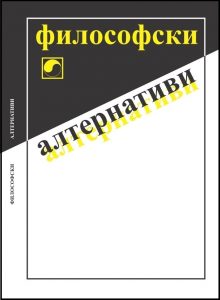 The journal began to come out in 1945 as "Philosophical Thought". It is the only academic journal for philosophy published in Bulgarian. It publishes works of authoritative Bulgarian researchers and authors from abroad, established in the field of philosophy.
The journal reflects the new trends in the development of Bulgarian and world philosophy in their dynamics and change. Major fields are: ontology, epistemology, philosophy of science, history of philosophy, philosophical anthropology, philosophy of history, ethics, aesthetics, logic, politics, philosophy of religion, psychology and sociology. The edition dedicates issues to the problems of culture, anthropology, history, linguistics, literature, that is, it has an interdisciplinary character. It also often provokes discussions on contemporary philosophical problems about the world, man, knowledge, thinking, morality, art.
Editor-in chief: Martin Tabakov
Deputy Editor-in chief: Ivaylo Dimitrov
Editorial Board: Doroteya Angelova, Yulia Vaseva, Dimityr Ganov, Kamelia Zhabilova, Valeri Lichev, Nikolai Mihailov, Nikolay Turlakov, Silvia Serafimova, Ivanka Stapova
International Advisory Board:
Rudolph Siebert (USA), Alexander Neklessa (Russia), Richard Tempest (USA ), Nathan Houser (USA, Canada), Axel Honneth ( Germany), Christopher Hookway ( Great Britain), Georgi D. Angelov (Bulgaria), Tatyana Batuleva (Bulgaria ), Nina Dimitrova (Bulgaria), Valentin Kanawrow (Bulgaria), Ivan Katsarski (Bulgaria), Ivan Kolev (Bulgaria), Duhomir Minev (Bulgaria), Stefan Penov (Bulgaria), Anguel Stefanov (Bulgaria ), Anani Stoynev (Bulgaria), Emilia Chengelova (Bulgaria).
Indexing: The articles in Philosophical Alternatives journal are indexed by:
The Philosopher's Index,
EBSCOhost,
Central and Eastern European On-line Library /www.ceeol.com/.
ISSN: 0861-7899
Printed.
In Bulgarian.
Editorial address:
Institute for the Study of Societies and Knowledge
6 Patriarh Evtimii Bul, 1000 Sofia
6 volumes per year – February, April, June, August, October, December.