Problems of Geography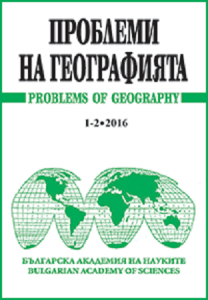 The scientific journal "Problems of Geography" is a periodical of the Department of Geography (former Geographical Institute) at the National Institute of Geophysics, Geodesy and Geography (NIGGG) at the Bulgarian Academy of Sciences (BAS). It is the only journal in Bulgaria in which materials of geographic nature are published. The journal is a successor of the "Bulletin of the Geographical Institute", printed from 1951 till 1975.
The journal contains scientific articles and studies relating to important issues of physical and economic geography (geomorphology, climatology, hydrology, landscape studies, geography of the population and settlements, economic sectors and systems, cartography, geographical aspects of environmental protection, rational use of natural and human resources, labor market, regional development and planning, etc.). Articles of a theoretical-methodological character and articles presenting the results of scientific and applied research of Bulgarian and foreign scientists on important and topical issues from all branches of geographic sciences and related fields of scientific knowledge are published. There are also results of work on various scientific projects, scientific reports, discussion materials, comments and reviews, as well as materials related to the anniversaries of prominent Bulgarian and foreign scientists geographers. All materials are peer-reviewed.
The Editorial Board focuses its attention on the publication of materials which discuss important contemporary scientific issues relating to climate change and the possibilities of social and economic systems to adapt to those changes, the sustainable use of nature, the development of mountain and rural areas, coastal zones, processes of socio-economic transformation, Euroregions, etc. A special place will be given to the publishing of most topical problems which are scantily represented in other journals such as the application of geoinformation technologies in the management and modelling of environmental changes, risk management, population mobility, geographical aspects of labor market functioning, tourism development, etc. Those are leading research issues in the studies of scientists not only in Bulgaria but also abroad.
The Problems of Geography journal comes out in four issues a year, and the articles are published also in English, French, German and Russian with abstracts in Bulgarian. The last issue of the year is published in English only. The Problems of Geography journal is disseminated abroad through the Central Library of the Bulgarian Academy of Sciences.
ISSN: 0204-7209 (Print)
ISSN: 2367-6671 (Online)
Printed.
In English, French, German, Russian.
4 volumes per year.
Editorial Address:
National Institute in Geophysics, Geodesy and Geography
3 Acad. G. Bonchev Str., Room 316, 1113 Sofia, Bulgaria