Silva balcanica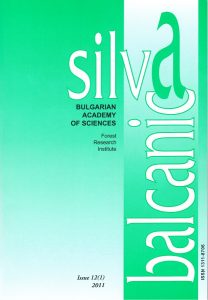 Silva balcanica has been issued since 2001, initially as international scientific series, and since 2014 as an international scientific journal with two issues per year. It is indexed by Scopus and has an Impact Rank (SJR) since 2002. The Editorial Board is made up of scientists and specialists working in the field of forest science in the countries of Southeastern, Central and Eastern Europe.
СThe journal publishes original results of high academic value in English in the different fields of forest science and forest ecosystems. Manuscripts on innovative approaches and excellence in forestry as well as critical reviews of articles related to forest science are also accepted. Additional (special) issues with papers from scientific forums are also published after preliminary review and evaluation of the manuscripts as required by the journal.
ilva balcanica has an English website with detailed information on history, mission, editorial board, editorial advisory board, instructions to the authors and full access to all editions in electronic form since its establishment to date.
ISSN: 1311 – 8706
Printed.
In Bulgarian and English.
2 volumes per year.
Editorial Address:
Forest Research Institute – BAS
132 St. Kl. Ohridski Blvd.,1756 Sofia