Sociological Problems Journal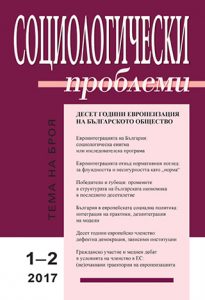 Sociological Problems is the only academic journal of the Bulgarian sociological community. It was founded in 1968 and is published jointly with the Bulgarian Sociological Association.
Advisory Board: Johannes Weiss, (Germany), Loik Vakan (USA), Galin Gornev (Bulgaria), Deyan Deyanov (Bulgaria), Zdzisłav Krasnodębski (Germany), Bruno Latour (France), Josip Rastko Močnik (Slovenia), Richard Münch (Germany), Georgi Fotev (Bulgaria).
Editorial Board:
Editor-in-chief: Kolyo Koev
Deputy Editor-in-chief: Kristina Petkova
Assistant editor: Teodora Karamelska
Members: Pepka Boyadjieva, Liliana Deyanova, Martin Kanoushev, Svetla Koleva, Tatyana Kotzeva, Maxim Molhov, Tanya Nedelcheva, Svetoslav Slavov, Rumiana Stoilova, Ivan Tchalakov
The full texts of the articles of the Sociological Problems journal from 1990 until present are available in the "Electronic Library for Central and Eastern Europe".
ISSN: 0324-1572
Printed.
In Bulgarian.
Editorial address:
Institute for the Study of Societies and Knowledge
1000 Sofia, 13A Moskovska Str. (room 116 и 102)
4 volumes per year