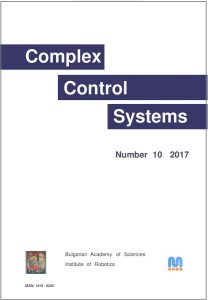 The journal Complex Control Systems (CCS) is the scientific edition of the Institute of Robotics at the Bulgarian Academy of Sciences. It is an updated and improved continuation of the periodical CCS, existing since 1984, and reflects the new trends in science after the start of the democratic reforms in academia in Bulgaria on 10.11.1989.
The research area of the CCS includes theoretical and practical aspects of control and system research. CCS publishes theoretical, methodological, application -oriented technical and review articles as well as announcements and advertisements related to the journal research scope. CCS is the official edition of the Bulgarian National Council for Automatic Control – member of the International Federation of Automatic Control – IFAC. In this role the journal publishes reports and information about scientific events and meetings of IFAC, NATO, Alexander von Humboldt Foundation – Germany, sponsor of the Institute of Control and System Research.
The research area of the CCS covers the following thematic spectrum:
– Control theory
– Sensors, micro – and nano – sensors
– System research and decision-making systems
– Knowledge-based systems
– Intelligent control and soft-computing
– Computer-integrated systems, CIM, PPS, CAD, CAT, CAM and CAQ systems
– Man-machine systems and human-computer interfaces
– Simulation modelling, identification and diagnosis of complex systems
– Intelligent robots and autonomous mobile systems
– Scientific, technological and system management
– Information – control systems – design and applications
– Intelligent sensors and sensor systems
– Control systems and process automation implementation in power industry, transportation, chemical industry, biological processes, etc.
The new edition of the journal CCS is dedicated to provide means for the specialists in the field of control and system research to become well-informed true members of the modem information society.
ISSN: 1310-8255
Printed.
In English language.

Editorial address:
Institute of Robotics – BAS
Acad. G. Bonchev Str., Bl. 2, 1113 Sofia