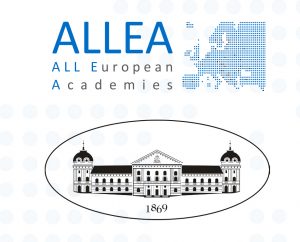 The General Assembly of the Federation of All European Academies (ALLEA) 2018 will be held on 16 and 17 May 2018 in BAS. It will be held in parallel with a scientific symposium on Science in Times of Challenged Trust and Expertise under the SAPEA project Shaping European Science Advice: Insights and Experiences. At a ceremony on May 16th, Bulgarian commissioner Mariya Gabriel will confer the prestigious Madame de Staël Prize 2018 which is annually awarded by ALLEA for contributions to Europe's cultural values ​​and to the idea of ​​European integration. Laureate of the 2018 award is Professor Andrea Pető of the Central European University in Budapest, Hungary.
The events are part of the calendar of the Bulgarian presidency of the EU-2018 Council. The main organizer is the Federation of All European Academies. The Bulgarian Academy of Sciences hosts and co-organizes. The events take place under the patronage of Sofia Municipality and in partnership with the Ministry of Education and Science.
Scientists from the Bulgarian Academy of Sciences and Bulgarian universities, representatives of local authorities and other stakeholders may participate in the events after pre-registration. Participation fee is not required. The working language of the conferences is English.

The meeting of the ALLEA General Assembly is with restricted access – only for the official representatives of the member organizations.
For more information and registration please click HERE.