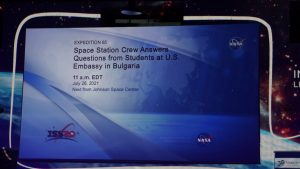 Scientists from the Bulgarian Academy of Sciences took part in the one-day scientific forum "Hello, Space! Bulgaria Calling" which took place on 26 July in Sofia Tech Park. The event culminated in a videoconference with the International Space Station, coordinated by NASA. Pupils from all over the country took part in a competition on most interesting questions for the astronauts from the space station.
The initiative was held owing to the joint cooperation of the Atlantic Club of Bulgaria and the National STEM/Space Cluster, with the support of NASA and the US Embassy in Sofia.
The aim of the project "Hello, Space! Bulgaria Calling" is to spark the imagination of children, inspiring them to look beyond the Earth's orbit to the Moon, Venus, Mars, as well as Bulgaria, through expanded cooperation with the United States in the field of STEM, to send a third astronaut into space and the country to be accepted as a full member of the European Space Agency, stimulating the development of the space industry in Bulgaria.
Prof. George Miloshev from the Institute of Molecular Biology of BAS and Prof. Evgenia Sendova from the Institute of Mathematics of BAS took part in the event with lectures.