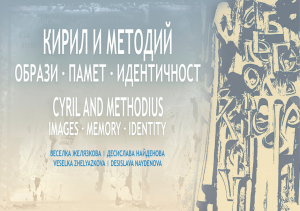 Научно постижение на Кирило–Методиевския научен център за 2021 г.
The bilingual album "Кирил и Методий. Образи. Памет. Идентичност"/"Cyril and Methodius. Images. Memory. Identity" was presented by the Cyrillo-Methodian Research Centre at BAS and the State Institute for Culture under the Minister of Foreign Affairs. The presentation
is on the occasion of the feast of the Assumption of St. Methodius – 6 April and took place in the "Mission" Gallery.
The publication was prepared by Prof. Dr. Veselka Zhelyazkova and Assoc. Prof. Dr. Desislava Naydenova from the Cyrillo-Methodian Research Centre of BAS within the framework of NSP "Cultural and Historical Heritage, National Memory and Social Development".
The Cyrillo-Methodian Research Centre has an outstanding scientific production of very high quality, and its scholars make science accessible for generations, noted at the presentation the Scientific Secretary of BAS in the field of "Cultural and Historical Heritage and Cultural Identity" Assoc. Prof. Elka Traykova. The album was named the most important scientific and applied achievement of the Centre for 2021, said Assoc. Prof. Traykova and stressed that the publication is very valuable because it creates a bridge between generations and cultures, bringing together in a unique album the canonical and the secular in the images of the holy brothers.
The album makes available to the Bulgarian and European public hitherto unexplored secular images of Sts. Cyril and Methodius – examples of phaleristics, numismatics, philately, vexillology. The orders and medals, coins and banknotes, stamps, flags and monuments reproduced in the album have a special place in the "culture of memory". They bear witness to the cultural politics of different countries in the process of forming collective identity. Their message reflects the changing motifs in the interpretation of Cyrillo-Methodian work over the long chronological span from the mid-nineteenth century to the present day, across a vast geographical area from Europe to South-East Africa and North America.
The publication once again shows the Cyrillo-Methodian tradition as a fundamental pillar of the national identity of Bulgarians and other European peoples which has become a symbol of dialogue and understanding in a united Europe.