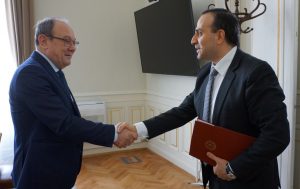 The President of BAS Prof. Julian Revalski, Full Member of the Academy, met with the Ambassador of Azerbaijan to Bulgaria H.E. Hussein Husseinov. At the meeting, the relations between BAS and the Azerbaijan National Academy of Sciences and the State University of Baku were discussed. It was pointed out that the Covid-19 pandemic has to some extent hampered joint scientific activities but they are expected to intensify again.
Opportunities were explored for a meeting between the Heads of the two Academies by the end of 2022. The Azerbaijani Ambassador expressed his desire to organize joint scientific events in the field of history and historical heritage, as well as exhibitions to introduce the history of Azerbaijan to the Bulgarian community.
Mr. Ulfat Machanov, Advisor to the Ambassador, was also present at the meeting.