Prof. Yuri Tschinkel shares global experience with a lecture on 13 June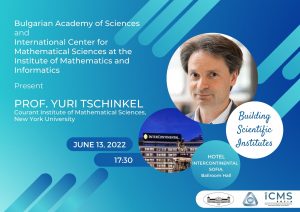 The Bulgarian Academy of Sciences, the Institute of Mathematics and Informatics and the International Center for Mathematical Sciences (ICMS-Sofia) are organising a lecture by Prof. Yuri Tschinkel, Head of the Department of Mathematics of Courant Institute at New York University, USA, and Director of the Mathematics and Physical Sciences Division of the Simons Foundation.
The lecture is entitled Building Scientific Institutes and therein Prof. Tschinkel will share his experience on how private capital supports research funding in various fields. Scientists, government and business representatives are invited to attend.
The event will take place on 13 June 2022 (Monday), at 17:30, at the Intercontinental Hotel Sofia, Ballroom Hall (4, National Assembly Sq). Admission by invitation.
Prof. Yuri Tschinkel will also be a special guest at the Annual Meeting of Young Bulgarian Mathematicians. It will be held on 13 and 14 June at the Institute of Mathematics and Informatics of BAS for the second consecutive year and is organised by the International Center for Mathematical Sciences (ICMS-Sofia).
On 14 June, a round table will be held and the perspectives for enhancing the professional development of young Bulgarian mathematicians by presenting new career opportunities through national and European research programmes will be discussed.
The visit of Prof. Yuri Tschinkel to Bulgaria is at the invitation of the President of BAS, Prof.  Julian Revalski, Full Member of the Academy.
The Simons Foundation, https://www.simonsfoundation.org, is a private foundation and one of the largest charitable organizations in the USA. The Foundation supports research in four scientific areas: mathematics and physical sciences; life sciences; autism research; and education, engagement and outreach by funding scientists, institutions and scientific infrastructure. Individual Support Programmes provide long-term research funding to distinguished scientists, as well as grants for research visits and travel.