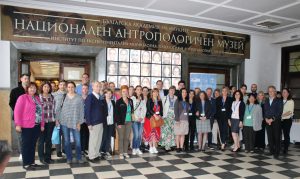 The Institute of Experimental Morphology, Pathology and Anthropology with Museum – BAS, together with the Bulgarian Anatomical Society, organised from 10 to 12 June 2022 the 6th National Conference with international participation "Morphological Days". The opening of the forum and the first two plenary sessions were held in the Sofia Hall of Interpred – WTC Sofia, and on 11 and 12 June the scientific sessions continued in the auditorium of the National Anthropological Museum at IEMPAM-BAS.
The conference was realised with the financial support of the Bulgarian National Science Fund – project KP06-MNF/22. Sponsors of the event were the Bulgarian Anatomical Society, FOT Ltd, Savimed Ltd and Microoptics Ltd. The event was opened by Prof. Dr. Svetlozara Petkova – Director of IEMPAM-BAS, and by Corr. Mem. Nina Atanassova, DSc – Chairman of the Organising Committee. Prof. Nikolai Lazarov, MD, DSc – President of the Bulgarian Anatomical Society, welcomed the participants in the conference.
The scientific forum brought together more than 150 scientists, lecturers and researchers from universities and institutes from home and abroad, working in the field of anatomy, cell biology, embryology, pathology and anthropology. The conference programme included 17 plenary lectures, 34 papers and 82 posters. Invited lecturers from leading scientific centers and universities in the country and abroad – the Netherlands, Switzerland, Germany, Egypt, USA, Latvia, Romania, Slovenia, North Macedonia, presented their scientific findings and world trends in the development of morphological science.
At the end of the forum, Prof. Nikolai Lazarov, MD presented the awards of the Bulgarian Anatomical Society for the best papers and poster presentations. Toma Spiriev, MD /Medical Faculty of Sofia University "St. Kliment Ohridski"/ and team; Prof. Dr. Neshka Manchorova /Medical University-Plovdiv/ and team were awarded for best papers. For best posters were awarded Asst. Prof. Kristina Malinova /Institute of Molecular Biology "Academician Roumen Tsanev"- BAS/ and team, and Asst. Prof. Dimo Stoyanov, MD /Medical University-Varna/ and team.