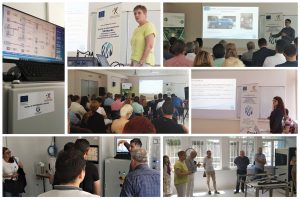 The Second Information Day of the "Centre of Competence HITMOBIL" Project, held on 21 June, brought together representatives of the project partners, the Managing Authority and businesses interested in the field of electrochemical systems for green energy.
Corr. Mem. Evelina Slavcheva, Head of CoC HITMOBIL, presented the overall progress in the implementation of the three modules of the project: M1 – Industrial Research, M2 – Experimental Development and M3 – Dissemination and Technology Transfer. She summarized the achievements in the construction of the six laboratories under the first two modules (five of them already completed and the sixth under construction due to the complexity of the site).  Emphasis was placed on the infrastructure of the completed Laboratory 3 "Hydrogen and Fuel Cells" and the problems caused by the lack of a regulatory framework to legalize this type of site.
Special attention was paid by corr. mem. Slavcheva to the market-oriented research carried out so far. She traced the formation of the Centre's scientific team to date and outlined the prospects for the next stages. Corr. Mem. Slavcheva gave an overview of the types of activities that the CoC HITMOBIL will carry out at the final completion of the project, according to the objectives set for the implementation of the national commitments for the development of a low carbon and resource efficient economy.
Dr. Daniela Levi briefed the participants in the event on the achievements to date under M3 – Knowledge Dissemination and Technology Transfer and the activities to support research and development in terms of management to ensure legal protection of intellectual property.
Sen. Asst. Prof. Dr. Blagoy Burdin, Head of M2 – Experimental Development, presented the capabilities of the already built Laboratory Test System for the study of the production and storage of energy from renewable energy sources. He talked about the achievements in the construction of the first mobile hydrogen charging station in Bulgaria and the region and the challenges faced by the team on this unique project.
Read more at https://iees.bas.bg/bg/aboutUs-108/news-165(149)
The project "Center of Competence HITMOBIL – Technologies for generation, storing and consumption of clean energy ", ADBFP No BG05M20P001-1.002-0014 is funded by the Operational Programme "Science and Education for Smart Growth" (OP SESG), co-financed by the European Union through the European Regional Development Fund.