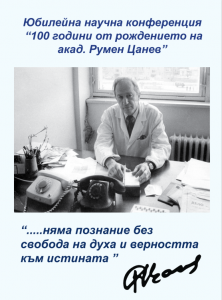 The Institute of Molecular Biology is celebrating 100 years since the birth of Acad. Roumen Tsanev. The director of the institute Prof. Iva Ugrinova opened the three-day forum, which will last until 7 October in "Prof. Marin Drinov" Hall of the Academy.
Acad. Tsanev formulated the first hypothesis of epigenetic regulation based on the histone code – an idea that has developed into a mainstream of modern science. Histones are the proteins that package DNA in the nucleus of the cell, and their chemical modifications are associated with specific levels of packaging and therefore affect gene expression. Acad. Roumen Tsanev (1922 – 2007) is the founder of Bulgarian molecular biology and the founder of the Institute of Molecular Biology (1960). The main directions of research at the Institute are a natural continuation of the work of Acad. Tsanev and his team.
The scientific conference is also dedicated to the 62nd anniversary of the Institute. The Vice-President of the Academy Corr. Mem. Stefan Hadjitodorov delivered a congratulatory address on behalf of the management Board of BAS. Since its establishment, the Institute of Molecular Biology has occupied a well-deserved place and the results achieved by the scientists are an example for the world science, said Corr. Mem. Hadjitodorov. The Institute has emerged as an attractive centre for young people, he noted, and recalled the work of scientists in the fight against COVID-19. The application of your scientific results is a source of pride, the congratulatory message said.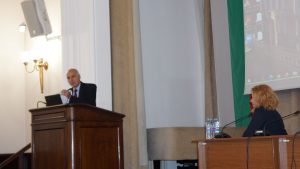 During the conference, Acad. Ivan Ivanov presented the history and development of the institute and shared memories of Acad. Roumen Tsanev, his research and his significant scientific results.
Eminent scientists from Bulgaria and from Germany, France, the Netherlands, the USA and New Zealand will give plenary lectures. A special highlight of the event will be the youth scientific session. Young scientists will present oral reports and will be evaluated by a scientific jury. The best performers will be awarded the traditional Young Scientist Award, established in the name of Acad. Roumen Tsanev.
More information about the event can be found at: http://www.bio21.bas.bg/imb/?id=92&lang=bulgarian