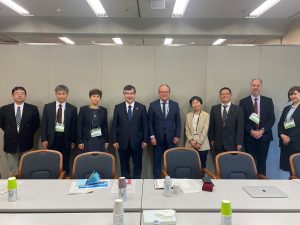 The President of BAS Prof. Julian Revalski and the Scientific Secretary-General Prof. Neli Koseva participated in the 19th Annual Meeting of the "Science and Technology in Society", forum which was held from 2 to 4 October in Kyoto, Japan. The meeting was attended by nearly 1,000 global experts from over 80 countries, regions and international organizations. The main objective of the meeting was to hold discussions on the progress of science and technology for the benefit of humanity.
During his visit to Kyoto, Prof. Revalski and Prof. Koseva met with the President of the scientific organization RIKEN Prof. Makoto Gonokami. They discussed the possibilities for cooperation between the Bulgarian Academy of Sciences and the Japanese scientific organization.
The President of BAS and the Scientific Secretary-General also participated in the 15th Academies of Sciences Presidents' Meeting on "Achieving Sustainability through Improving Climate Resilience". Prof. Julian Revalski presented the views and activities of the Bulgarian Academy of Sciences on this topic.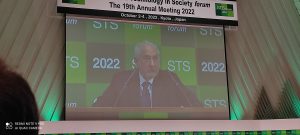 The meeting of the Young Leaders Programme was held within the framework of the forum "Science and Technology in Society", in which the young scientists of BAS Dr. Radoslav Alexandrov from the Institute of Molecular Biology and Dr. Galin Borisov from the Institute of Electrochemistry and Energy Systems participated. The aim of the programme is to give young leaders from academia, industry and the public sector the opportunity to exchange views with Nobel Laureate scientists and discuss how they can contribute to improving the world through science and technology.