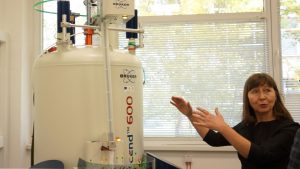 A Nuclear Magnetic Resonance Spectroscopy (NMR Spectroscopy) Laboratory, with equipment funded by the Centre of Competence project "Sustainable Utilization of Bioresources and Waste from Medicinal and Aromatic Plants for Innovative Bioactive Products", Operational Programme SESG, was opened today at the Institute of Organic Chemistry with Centre of Phytochemistry of BAS. The laboratory is part of the Centre for NMR Spectroscopy at IOCCP-BAS.
The unique for the country and the region scientific equipment will contribute to the expansion of opportunities for research and innovation in the fields of chemistry, phytochemistry, materials science and life sciences, said the head of the NMR Spectroscopy Laboratory Prof. Pavleta Shestakova. She added that for the last three years the laboratory team has participated in a total of 16 projects, has 60 scientific publications and 1452 citations.
Two new state-of-the-art Bruker BioSpin NMR spectrometers have been delivered to the laboratory. NMR spectroscopy is one of the most powerful analytical methods for qualitative, quantitative and structural analysis which is used in many scientific fields to achieve a high level in basic and applied science. The young scientist Dessislava Gerginova presented the possibilities that the new equipment provides for the study of food and beverages.
The Bulgarian Academy of Sciences is making great efforts to attract young people, said the President of BAS Prof. Julian Revalski, Full Member of the Academy.
The beginning of the spectroscopic research at the Institute of Organic Chemistry with Centre of Phytochemistry of BAS dates back to the far 1966. The new equipment will contribute to the development of basic and applied research.
The opening ceremony was attended by representatives of the management Board of BAS, the Director of the Science Directorate at the Ministry of Education and Science Milena Damyanova, representatives of Bruker BioSpin and scientists.