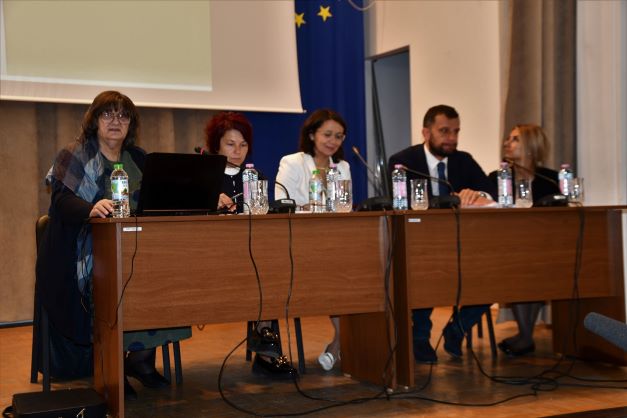 A public discussion of the Environmental Assessment Report (EAR) of NRRP was held on 21 October 2022 in "Prof. Marin Drinov" Hall of BAS. The meeting was attended by representatives of the Council of Ministers – Mr. Ivan Ivanov (Director of the "Central Coordination Unit" in the Council of Ministers) and Ms. Tsvetelina Hinkova (expert "Central Coordination Unit"). Mr. Ivanov expressed special thanks to the Bulgarian Academy of Sciences for lending a hand and for the considerable efforts made in the preparation of the EAR.
Assoc. Prof. Dr. Ina Aneva, Project Coordinator and Scientific Secretary of the Biodiversity, Bioresources and Ecology division, emphasized that BAS was the leading scientific, spiritual and expert center of Bulgaria and as such, one of the priorities was to be of benefit to the society and the state. We are honoured to participate in the preparation of strategic documents and policies. This is one of the ways we fulfil our mission, namely to help solve problems of public importance. Assoc. Prof. Dr. Ina Aneva thanked the Council of Ministers for the trust placed in the Academy for this responsible task. She expressed her special gratitude to the team that worked on the preparation of the Report, noting that the results obtained created a sense of satisfaction with the professional work done in a timely manner.
Assoc. Prof. Dr. Neli Gromkova made a presentation and pointed out that the projects envisaged in the NRRP represent the framework for sustainable development of the Republic of Bulgaria. During the discussion, the opinions of WWF-Bulgaria and "Balkans" Association were presented.