Institute of Philosophy and Sociology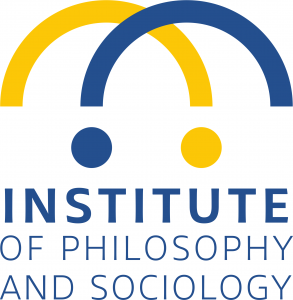 The Institute of Philosophy and Sociology at BAS (IPS-BAS) was established in July 2010 by a decision of the General Assembly of the Academy as the successor of the Institute for Philosophical Research, the Institute of Sociology and the Center for Science Studies and History of Science.
Scientific activity
The Institute of Philosophy and Sociology at BAS conducts complex theoretical and empirical, fundamental and applied, philosophical, sociological, and science-studies-related research on knowledge, values, Man and society, in accordance with the academic, national, and European criteria and world trends in the development of science, and trains highly qualified specialists in the academic disciplines of philosophy, sociology, science studies, and their sub-divisions.
This is a unique institution, the priorities of which are research and analysis and interpretation of research, combined with post-graduate training (provided by the Institute alone or jointly with similar university departments), popularizing of ideas and results, continuance and further development of the analysis of classical and topical fields of social knowledge, such as epistemology and history of philosophy, philosophy and sociology of social structures and many other fields of major significance for the sustainable development of Bulgarian society, for social progress and for the enhanced prosperity of society.
The activities of IPS include provision of expert and consultancy services for the needs of governance and organization in all spheres of social practice related to the needs of the social-economic, cultural, and political development of Bulgaria and the advance of science as a social phenomenon. The mission of the Institute, as part of the Bulgarian Academy of Sciences, is to ensure an adequate knowledge of the social processes and to contribute to the optimization of policy making in major social-economic fields.
Educational activity
Doctoral programs:
9.4.1. Philosophy of technology
9.4.2. The human body in humanities
9.4.3. Syllogistics / Theory of syllogisms
9.4.4. Algorithmic and non-algorithmic complexity
9.4.5. Urban sociology
9.4.6. Investigation in private and public archives
9.4.8. Science and technology in contemporary society
9.4.9. Anthropology: nascence, development and contemporary trends
9.4.10. Culture and civilisation
9.4.11. The game as a cultural phenomenon
9.4.12. Theory of scientific knowledge
9.4.13. Migration studies
9.4.14. Religious map of the secular europe today: social-anthropological profile today
9.4.15. Social macrotransformation in Bulgaria – problems and risks
9.4.16. Society and environment
9.4.17. Philosophy of artificial intellingence
9.4.18. Applied process ontology
9.4.19. Social problems of deviant behavior
9.4.20. Social survey research
Other educational initiatives:
Intensification of the research interactions between the institutes of BAS and the higher education institutions under the regional academic cooperation schemes;
Developing and conducting lecture programmes and courses for higher education institutions in Bulgaria – mainly for Master and PhD students;
Increasing the influence and significance of Bulgarian science internationally;
Introducing new knowledge and ideas for the benefit of society and research;
Contacts
13A Moskovska Str., 1000 Sofia, Bulgaria

+359 2 981 7946

+359 2 981 7946