Central Library of BAS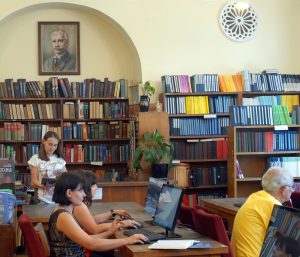 The Central Library of the Bulgarian Academy of Sciences (CL-BAS) is the first scientific library in Bulgaria, established at the same time as the Bulgarian Learned Society in October 1869 in Braila, Romania. Nowadays, it is a national center of literary-documentary heritage and information base for fundamental and applied research.
The Central Library is a multi-branch scientific library with responsibility for building and organizing the national library fund and for library and information services with Bulgarian and foreign literature and access to foreign databases. With the introduction of the ALEPH500 automated library information system, CL-BAS has become one of the most successfully functioning libraries in the country, which builds and manages a library network of 48 specialized libraries in 34 scientific units of the Bulgarian Academy of Sciences and provides the library and informational service of BAS as a complex national scientific center.
With its fund of more than 2 000 000 library documents, the Central Library has made a significant contribution to building the national library and information resources of the country. Through the projects in which it participates, it creates a variety of digital resources and thus integrates successfully into the process of developing the digital information and educational environment.
The Central Library of BAS creates and maintains international book exchange with over 780 scientific institutions from 61 countries. International book exchange in Bulgaria has a long history and rich traditions. The first Bulgarian library which sent its own publications abroad and received others for its funds in return was the library at the Bulgarian Learned Society (BLS). Book exchange is one of the forms of scientific and cultural cooperation between individual countries' libraries, thus providing mutual information on the scientific achievements in the country concerned.
Online services
Contacts
1 "15 Noemvri" Str., 1000 Sofia, Bulgaria

+359 2 987 8966

+359 2 987 2500
Journals
External online resources