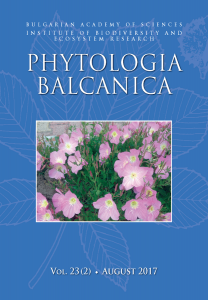 Phytologia Balcanica is an international journal which publishes original scientific articles and communications concerned with the following fields of study: taxonomy or biosystematics of plants, chorology, floristics, evolution, phytocoenology, palaeobotany, palynology, plant anatomy, embryology, ecology, monitoring, biology and chemistry of medicinal and aromatic plants.
The articles are submitted in English. All manuscripts are subject to critical review by at least one anonymous reviewer. The Editors reserve the right to accept or reject the submitted material.
ISSN: 1310-7771 (Print)
ISSN: 1314-0027 (On-linе)
Printed.
In English.
3 volumes per year.
Editorial Address:
Institute of Biodiversity and Ecosystem Research
1 Tsar Osvoboditel Blvd, 1000 Sofia