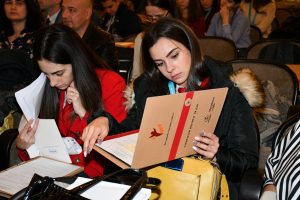 The sixth scientific session of the High School Student Institute of BAS (HSSI-BAS) was opened today by the Deputy Minister of Education and Science Tanya Mihaylova and the Vice-President of BAS corr.-mem. Kostadin Ganev. The two-day forum is held in "Prof. Marin Drinov" hall and is dedicated to the 150th anniversary of the Bulgarian Academy of Sciences.
Academician Kenderov congratulated the participants and recalled the mission of HSSI-BAS: young people to be encouraged to become researchers, to successfully present their developments and to establish strong links between Bulgarian science and education.
The Bulgarian Academy of Sciences supports the High School Student Institute and the scientists with an apostolic mission who lead young people along the path of science, said in his welcome speech the Vice-President of BAS corr.-mem. Kostadin Ganev. Wherever you continue your education, do not forget that Bulgarian science will need you, he added.
The Ministry of Education and Science highly appreciates the work of the High School Student Institute of BAS, announced Deputy Minister Tanya Mihaylova. According to her, extra-curricular science shows that students are able to properly allocate their personal time, set goals, and get rid of various daily temptations.
Young violinist Diana Chausheva from National Musical School "L. Pipkov" and teacher Ventsislava Todorova greeted the participants in the session.
More than 50 pupils are participating in the sixth session of HSSI-BAS. Their projects are from all fields of science and are admitted to the session on the basis of reviews by a jury. The reviews contain critical notes and recommendations for their research.
The authors who had distinguished themselves on the first day of the session will be ranked and awarded.
On 29 November, the session is going to continue with the presentation of projects by students from the mathematical high schools in Sofia and Plovdiv and reports in the fields of "Biodiversity", "Virology" and "Robotics". At 13:00 o'clock, the forum will end with the announcement of the ranking and the awarded authors of high school students' projects from the second day of the session.