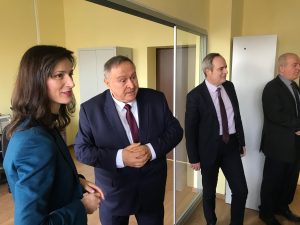 A working meeting with the participation of Commissioner Mariya Gabriel was held by the scientists at the QUASAR Center of Competence "Quantum Communication, Intelligent Security Systems and Risk Management". Academician Chavdar Roumenin and Assoc. Prof. Lachezar Georgiev presented the research activity on the project. Mariya Gabriel got acquainted with the newly constructed laboratory complex equipped with the highest class of specialized equipment which is located at the Institute of Robotics of BAS.
Among the highlights of the meeting were Bulgaria's participation in the European Euro QCI initiative and the related challenges.
"Quantum technologies are increasingly central to the digital world we live in. I am proud that Bulgaria has also made a major contribution to their development through the QUASAR Center of Competence," said Commissioner Mariya Gabriel. "I am thankful to the whole team of the center for the hospitality and the interesting discussion, for the incredible work and knowledge they put into the project. QUASAR's research activities will lead to the creation of new technologies at international level. I congratulate the team for choosing the center to represent Bulgaria in the European Euro QCI network in order to build a jointly integrated quantum communication infrastructure in Europe" she added.
The teams of the European Commissioner and the scientists of QUASAR agreed on the need for complex measures for the protection of critical infrastructure which is one of the leading functions of the Center.
Another very important aspect of the meeting was the need for science to enter schools. "There is no way we can attract young people to science unless they are met face to face by our scientists who will show and tell them about the benefits of science in real life. We are launching a discussion on the European Research Area tomorrow, and in September we will outline the next steps for building the European Education Area​​. I count on Bulgarian scientists to cooperate and share ideas on how to bring science and education closer, what to invest in the next programming period, so that the invested funds can bring the highest results" announced Mrs. Gabriel.
The meeting was attended by the President of BAS, Prof. Julian Revalski, full member of the Academy, the Rector of Sofia University "St. Kliment Ohridski" Prof. Anastas Gerdzhikov, Prof. Stefan Vodenicharov, full member of BAS, Colonel Ivan Malamov – Rector of the National Military University "Vasil Levski" and others.