The National Museum of Natural History at BAS and the Hungarian Cultural Institute at the Embassy of Hungary in Sofia present the travelling exhibition of the Union of Hungarian Nature Photographers NaturArt "Selected from the best Hungarian nature photographs of the last 30 years".
Official guests at the opening of the exhibition at the National Museum of Natural History on 14 May 2021 were H. E. Tekla Harangozó, Ambassador Extraordinary and Plenipotentiary of Hungary to Bulgaria, Szandra Miskedi, Director of the Hungarian Cultural Institute, Prof. DSc Nina Atanassova, Scientific Secretary of the Department of Biomedicine and Quality of Life at BAS, Bilyana Genova, Director of the Directorate of Culture and Coordinator of the "Culture" Programme at Sofia Municipality, and Yuri Treiman, President of the Bulgarian Academy of Photography "Yanka Kyurkchieva".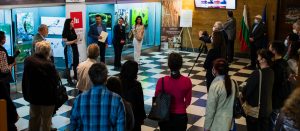 В приветствието си Н. Пр. Текла Харангозо отбеляза, че "...в Унгария е от първостепенно значение да опазваме природата и нашата планета чрез устойчиво развитие. Нищо не доказва това по-добре от Изложението за устойчивост и срещата на върха "Планета Будапеща 2021", което ще се проведе от 29 ноември до 5 декември 2021 година. Надяваме се фотографиите да Ви вдъхновят да посетите Унгария, а също и самите Вие да излезете сред природата и да се възхитите на чудесния жив свят, който ни заобикаля. Нека заедно да защитаваме разнообразието и красотата на нашата природа."
In her address, H.E. Tekla Harangozó noted that "…in Hungary it is of paramount importance to protect nature and our planet through sustainable development. Nothing proves this better than the Sustainability Expo and Summit "Planet Budapest 2021″, which will take place from 29 November to 5 December 2021. We hope the photographs will inspire you to visit Hungary, and also to get out into nature yourself and admire the wonderful living world that surrounds us. Let us together protect the diversity and beauty of our nature."
The Nature Photographer of the Year competition has been held in Hungary every year for 30 years and has now become the largest nature photography competition in the country. The current exhibition "A selection of the best Hungarian nature photographs of the last 30 years" was prepared after a selection of nearly 100 000 photographs and made possible with the help of the Hungarian Ministry of Foreign Affairs and Trade. It includes the works of world-famous Hungarian nature photographers such as Bence Máté, Tsaba Darotsi, Orshoja Harberg, Milan Radisics and others. Also on display are the two photographs by Bence Máté that received the "best in the world" award. Most of the photographs were taken in Hungary or in the Carpathian region. For the first time in Bulgaria, one can see the works that won the "Nature Photography of the Year" award which also gives a good overview of the development of Hungarian nature photography.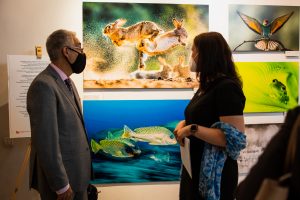 In Sofia, the exhibition is presented in two parts – the main exposition at the National Museum of Natural History of BAS and a chamber exhibition at the Hungarian Cultural Institute and can be viewed until 18 June 2021.
The exhibition arrives in our country from Prague, where it was presented only online due to the quarantine measures in force at that time. Colleagues from the Hungarian Cultural Institute in Prague have produced a video which can be viewed with Bulgarian subtitles at: https://www.youtube.com/watch?v=v4FXxUGsq5o&t=50s  The subtitles have been prepared by the Hungarian Cultural Institute in Sofia.