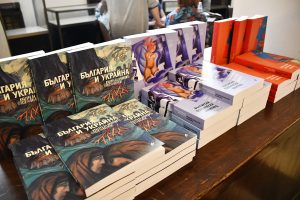 Four books on Bulgarian-Ukrainian cultural relations were presented at BAS by the Institute of Literature and the Embassy of Ukraine in Bulgaria. The comparative collection "Bulgaria and Ukraine – Culture at the Turning Points (XIX-XIX)", the anthologies "Bulgarian Poetic Avant-Garde", "Ukrainian Poetic Avant-Garde" and the phototype edition "The Ukrainian-Bulgarian Review: Cultural Diplomacy of the Embassy of the Ukrainian People's Republic in Bulgaria" (1919-1920) show artistic facts, developments and documents unknown to the academic and cultural audience.
The event for the presentation of the editions was attended by Assoc. Prof. Dr. Elka Traykova, Head of the Cultural-Historical Heritage division of BAS, Assoc. Prof. Dr. Marieta Ivanova-Girginova, Head of the research project Bulgaria and Ukraine – Culture at the Turning Points (XIX-XIX) and participants in the project. The premiere was also attended by the Ambassador Extraordinary and Plenipotentiary of Ukraine to our country H.E. Mr. Vitaliy Moskalenko.
The presented editions are a contribution to the field of Bulgarian-Ukrainian relations since they explore and promote a part of an unknown or less known history of Bulgarian and Ukrainian cultures, of literary dialogue and communication between the two countries over a period of three centuries.
The books highlight the similarities and differences in the socio-cultural and literary-historical development of Bulgaria and Ukraine and offer a virtual literary map of the contacts between the two cultures from the National Revival period to the present day. The participants in the presentation of the books were unanimous that they raise the Bulgarian-Ukrainian academic contacts to a new level and create a common scientific territory open for future dialogues.