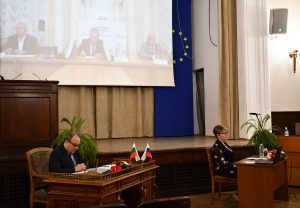 An agreement on scientific and technological cooperation was signed by the Bulgarian Academy of Sciences (BAS) and the Russian Academy of Sciences (RAS) at a ceremony held remotely today. The President of the BAS Prof. Julian Revalski, Full Member of the Academy, and the President of the RAS, Acad. Alexander Sergeev, signed the document. Within the framework of the agreement, a "Roadmap" of joint scientific research projects will be prepared.
The year 2021 has been declared the Year of Science and Technology in Russia, the President of BAS said at the signing ceremony. The first cooperation agreement between BAS and RAS dates back to 1958 with several updates and after some interruption today the cooperation between the two academies is resuming. During the meeting in their speeches both sides emphasized the traditionally good relations between Bulgarian and Russian scientists. Fifty-five in number are the joint projects in various scientific fields and 35 in the field of fundamental space research.
The two academies will support cooperation in basic research in various scientific fields and exchange scientific and technological information. The agreement provides for the development and implementation of joint scientific projects between scientists, the organisation of scientific conferences and schools for young scientists. Joint international academic mobility programmes are also to be implemented.
Today, 7 July, marks the 142nd anniversary of diplomatic relations between Bulgaria and Russia. The agreement was signed in BAS in the presence of the Ambassador of Russia to the Republic of Bulgaria H.E. Eleonora Mitrofanova and in RAS of the Ambassador of the Republic of Bulgaria to Russia H.E. Atanas Kristin, who welcomed the scientists.
The ceremony in BAS was attended by the Vice-Presidents Corr.-Mem. Stefan Hadjitodorov and Prof. Evdokia Pasheva, in RAS – by the Vice-President Acad. Yuri Balega.