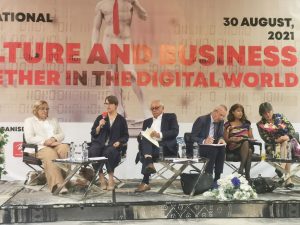 The International Forum "Culture and Business – Together in the Digital World" was held on 30 August at the Marinela Hotel, Sofia. The organizers of the prestigious event were Standard Media and the Wonders of Bulgaria Foundation, in cooperation with M3 Communications Group. Among the special guests were EU Commissioner Mariya Gabriel, the Minister of Culture Prof. Velislav Minekov, the Secretary-General of Europa Nostra Sneška Mihailović and the President of BAS Prof. Julian Revalski, Full Member of the Academy.
"The Bulgarian Academy of Sciences has played a key role in preserving and promoting the wonders of Bulgaria through state-of-the-art digital technologies," said Prof. Revalski.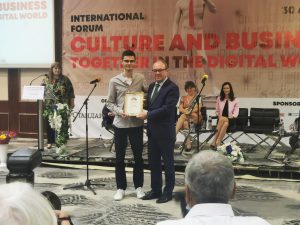 "I am glad that BAS is a welcome partner in these initiatives and I would like to assure you that you will be able to count on us in the future, not only because of our capacity, but also because of what the Academy was established to do," he highlighted. The President added that since its establishment more than 150 years ago, one of the main things in the statutes of BAS has been the preservation of Bulgarian history, culture, traditions and language. Prof. Revalski presented one of the awards for young talent of the "Wonders of Bulgaria" Foundation.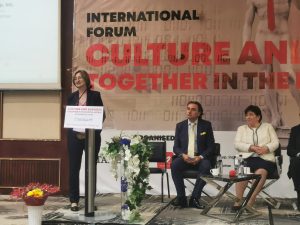 Prof. Dr. Desislava Paneva-Marinova from the Institute of Mathematics and Informatics of BAS presented some of the Academy's projects in the area of digitization of cultural heritage, such as a virtual encyclopedia of Bulgarian iconography; 3D presentation and complete photography of the exceptional frescoes in the Church of the Nativity of Christ – Arbanassi; digital restoration of the wood carving of the unique iconostasis of the Church of the Assumption of the Mother of God, Bansko; virtual gallery of Bulgarian church bells in sound and image; the game "The Thracians" and others.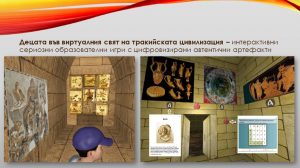 In her presentation, she highlighted the role of BAS in the process of digitization of cultural heritage by talking about the Digitization Lab in Burgas. Its activities focus on communication and cooperation with museums, libraries and cultural institutions in the region on the digitization of the content of their holdings, collections and valuable artifacts.
The forum was attended by representatives of business and non-governmental organizations, the university and scientific community, architects, museum workers and archaeologists, mayors and representatives of municipalities with projects in digitization.
The presentation of Prof. Paneva-Marinova can be seen HERE.