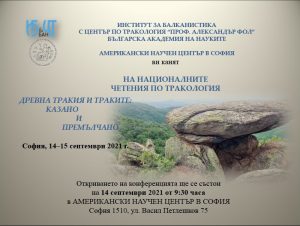 Twenty scholars from the most prestigious scientific institutions will present the latest research in the field of Thracology during the Fourth Readings in Thracology on "ANCIENT THRACIA AND THE THRACIANS: SAID AND OMITTED", dedicated to Prof. Alexander Fol. The event is organized by the Institute of Balkan Studies with Center of Thracology of the Bulgarian Academy of Sciences and will be held this year on 14 and 15 September 2021. The traditional date of the readings is 15 May – the date from which the Institute of Thracology has been functioning as an independent scientific unit of BAS but due to the epidemic situation in the country it was postponed to September.
The opening of the scientific conference will take place at 9.30 am on 14 September 2021 in the American Research Center in Sofia and with its kind partnership. Scientists from IBSCT-BAS, Sofia University "St. Kliment Ohridski", South-West University "Neofit Rilski" – Blagoevgrad, New Bulgarian University, Plovdiv University "Paisii Hilendarski", National Museum of History, museums from the country will present different aspects of research in the field of Thracology. The number of participants is highly reduced due to the epidemic situation in Bulgaria. The conference proceedings will be published in Thracia XXVII.
The theme of the national scientific conference is a replica of the book "Thracian Culture: said and omitted" by Prof. A. Fol, published in 1995. With this book, the author posed many challenges to his readers, entering the field history of the philosophy of culture. With this event, the Center of Thracology "Prof. Alexander Fol" is launching its ambitious programme to celebrate the 50th anniversary of the founding of the Institute of Thracology at BAS.
The programme can be found here.