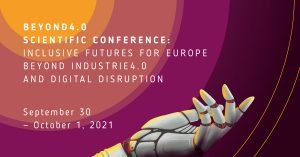 The scientific conference BEYOND4.0 Inclusive Futures for Europe BEYOND Industrie 4.0 and Digital Disruption is taking place at BAS on 30 September and 1 October.
The President of BAS Prof. Julian Revalski, Full Member of the Academy, the Deputy Minister of Education and Science Corr.-Mem. Konstantin Hadjiivanov, the Director of the Institute of Philosophy and Sociology Prof. Vesselin Petrov and the project coordinator Prof. Steven Dhondt  opened the event in "Prof. Marin Drinov" Hall at BAS.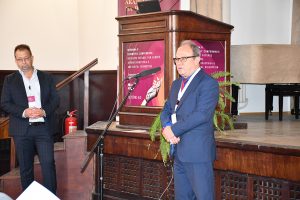 Researchers from 22 countries will present and discuss project results and research related to digital transformation and innovation in the workplace. The project is funded by the European Union's Horizon 2020 programme. It is organised by the BEYOND4.0 project consortium, the Bulgarian Academy of Sciences (Institute of Philosophy and Sociology), the European School of Social Innovation ESSI and the European Workplace Innovation Network EUWIN.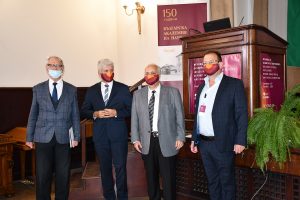 The two-day event, which takes place in a hybrid format, focuses on the future of work and the exchange of recent research findings in different manifestations of digital transformation on work and employment.
To what extent will digital technologies take jobs? Can digitalisation be inclusive? What should we expect from robots? These are just some of the questions that will be addressed by over 150 participants, on-site in Sofia or online. The conference is also a great opportunity for Bulgarian researchers from different disciplines (sociology, economics, labour law, labour relations, etc.) and working on digitalization to exchange with researchers from more than 20 countries.
Paper topics include Digital Transformation and Societal Disruption after the Covid-19 Crisis -Quo Vadis – Facts and Figures; The next technological wave? The technology waves reassessed from a historical perspective – today's lessons from the past; Work, organisation and management: workplace innovation to support digital transformation; Change of technology and the need for on-going change for the demand of skills; Platform economy; and Conditions of work in the context of digital transformation.
You can learn more about the BEYOND4.0 project at www.beyond4-0.eu