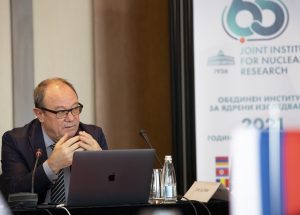 The President of BAS Prof. Julian Revalski, Full Member of the Academy, has participated in a session of the Committee of Plenipotentiary Representatives (CP) of the governments of the JINR member states which is held in Bansko.
CP is the supreme governing body of the Institute which convenes twice a year. A tradition has been established that the November meeting is held in a JINR member country. 2021 has been declared the JINR Year of Bulgaria. The hosting of this major event by our country is a kind of culmination of this initiative.
The session was attended by the Chairman of the Nuclear Regulatory Agency Tsanko Bachiyski who is Bulgaria's Plenipotentiary Representative to the JINR, the Director of the JINR Acad. Grigory Trubnikov, the management of the Institute and officials.
In the first part of the CP session the participants discussed the scientific activities of the Institute in 2020. The President of BAS presented the ongoing research of the Bulgarian Academy of Sciences.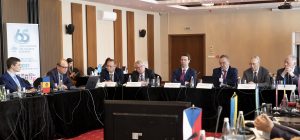 The meeting of the CP will end with a closing solemn session on 23.11.2021 in Sofia, where the Sofia Declaration on the Value of Development of International Scientific and Technological Integration will be adopted.
Photos: NRA