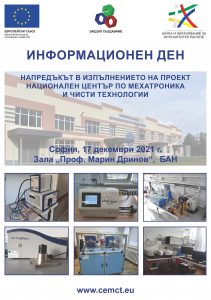 An information day on Progress in the implementation of the "National Centre of Mechatronics and Clean Technologies" project was held on 17 December in BAS. This is the third information day since the launch of the project.
The President of BAS Prof. Julian Revalski, Full Member of the Academy, opened the information day and expressed his satisfaction with bringing together the best scientists in Bulgaria in the field of mechatronics and clean technologies. This is the largest project in terms of scale and funding, which is an example of the most successful cooperation between institutes of BAS and higher education institutions in Bulgaria, a bridge between education and scientific work. Prof. Revalski noted that in recent years there has been a significant improvement in the research infrastructure but there is still one essential step to be taken; to maintain the research staff of the project and to attract young people to work which is a guarantee for its sustainable development.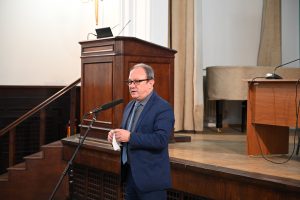 Moderator of Information Day'2021 was Prof. Neli Koseva, member of the project's Management Board and Scientific Secretary-General of BAS. She noted that for the participants in the project this is a day of critical analysis of the past year, an important day in which they fulfill their commitment to inform society how effectively, appropriately and transparently public funds have been used, what has been created with them, as well as to explain the usefulness of the results obtained for the development of the country.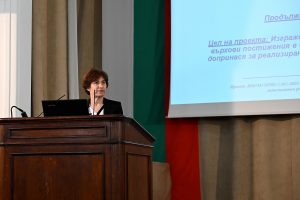 The forum was attended by the Deputy Ministers of Education and Science Acad. Konstantin Hadjiivanov and Vanya Stoyneva, representatives of the Board of Trustees of BAS, the Mayor of Slatina Municipality Georgi Iliev, managers and representatives of the project partners and others.
The scientists presented the results achieved in the construction of the research structure of the three research complexes "Geo Milev", "Lozenets" and "Students' Town", constituting the Center of Excellence in Mechatronics and Clean Technologies and the research conducted.
See the results presented here. The video from the information day can be viewed at https://youtu.be/UU6tLNzywq8