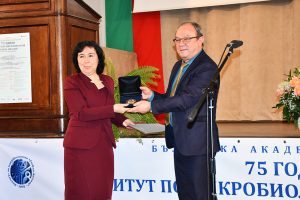 Three young scientists awarded for best publication in microbiology 
The Bulgarian Academy of Sciences awarded the Institute of Microbiology of BAS with a Honorary Plaque – GOLDEN for significant scientific contribution to the development of microbiology in Bulgaria and on the occasion of the 75th anniversary of its foundation. The solemn scientific conference, dedicated to the anniversary, was held in "Prof. Marin Drinov" Hall of BAS.
The President of BAS Prof. Julian Revalski, Full Member of the Academy, pointed out in his greetings that the Institute was very much in demand and visible by the society. It is important to note that scientists are doing deep fundamental research and with many applications, which is expected by our society. You are proving your leadership position at the global level, said the President of BAS. Because of the pandemic, you have shown why it is necessary for a country to have scientists, said Prof. Revalski and explained that the availability of highly qualified scientists is part of the national sovereignty of the country,
The Director of the Institute of Microbiology, Prof. Penka Petrova, spoke about the successes, research and the new methods introduced over the years and recalled the series of great names in microbiology who worked for the development of this science in Bulgaria. The institute has a high visibility in the international community, with projects in the Pasteur network and is a respected partner of international research centres, she emphasised.
Prof. Petrova pointed out the significant scientific achievements in recent years. Bacteria capable of degrading some types of plastics have been discovered, complete sequencing of bacterial and meta genomes is being carried out, probiotic properties of lactic acid bacteria are being studied, a methodology for rapid diagnosis of tuberculosis has been created, new systems for obtaining biogas, hydrogen and methane have been developed, plants for the treatment of psoriasis and against obesity have been isolated, substances with antiviral activity against influenza, herpes, etc. have been found. Work is also now under way to create new types of vaccines, including coronavirus, she said.
Three young Bulgarian scientists were awarded for the best publication in the field of microbiology in 2021. These are Kristiana Amirova (Institute of Microbiology, BAS), Lidia Tsigoriyna (Institute of Chemical Engineering, BAS) and Yordan Kalchev (Medical University – Plovdiv). The award for the best scientific work of a young microbiologist is given by the Foundation "Acad. Prof. Dr. Stephan Angeloff".
The plaque "75 Years of Stephan Angeloff Institute of Microbiology" was awarded to scientific institutions with which IMicB had implemented significant scientific partnerships. The latest scientific achievements under the title "Modern microbiology in response to the challenges of improving the quality of life" were presented during the event.
Video from the event see HERE