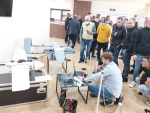 Developments of the Institute of Robotics of BAS were presented today within the Open Day of Intellectual Property which was held at the Patent Office on the occasion of 26 April – World Intellectual Property Day.
Researchers of the QUASAR Centre of Competence of the Institute of Robotics of BAS showed their inventions and explained the various aspects and issues related to intellectual property.
The participants of the event were introduced to innovative exhibits in the field of robotics and automation. The robots with advanced and upgraded software "Pepper" and "NAO", an orthosis-type hand manipulator that speeds up social adaptation of people with impaired hand kinetics, a series of robots for STEM education, as well as quantum communication with photons developed by the scientists of the QUASAR Competence Centre were presented for the first time.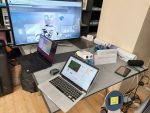 World Intellectual Property Day continued with a conference on Intellectual Property in Robotics and Artificial Intelligence. The main objective of the forum was to promote the role of intellectual property in the development of innovation and robotics and to give businesses the opportunity to learn about their effectiveness and applicability. The conference was opened by the Deputy Minister of Education and Science Ms. Vanya Stoyneva.
The organizers of the forum are the Patent Office, the Institute of Robotics of BAS and the Professional Association of Robotics and Automation. The event was attended by the President of BAS Prof. Julian Revalski, Full Member of the Academy, who stressed the need to build a strong link between science and business in Bulgaria.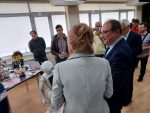 Among the participants in the event were also the Head of the QUASAR Centre of Competence, Acad. Chavdar Roumenin, Acad. Grigor Gorchev, as well as representatives of the state administration.