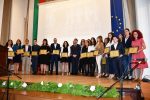 The best young scientists of the Bulgarian Academy of Sciences were honored at a solemn assembly on the occasion of 24 May, which was held today in "Prof. Marin Drinov" Hall of BAS. The President of the National Assembly Nikola Minchev presented the awards to the winners of the competition for young scientists "Professor Marin Drinov" and the competition for the youngest scientists "Ivan Evstratiev Geshov". For their achievements in the past year, 25 researchers from nine scientific divisions received the two awards. A full list of the winners can be found here.
In his address, Nikola Minchev assured the audience that as the President of the National Assembly he feels personally committed to the cause of young Bulgarian scientists to have the opportunity to develop and feel useful and especially respected members of society. He added that the Bulgarian Academy of Sciences has always been a spiritual centre where Bulgarian knowledge is created, an essential part of the cultural and intellectual wealth of our country. This is the mission of BAS – to ensure the prosperity of our society through science, the Parliament President added.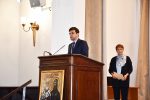 Today we celebrate the holiest, most unifying holiday in Bulgaria, which gives us the opportunity to honour a common space of spirit with other European nations, said in his speech the Vice-President of BAS Corr. Mem. Stefan Hadjitodorov. He added that in this space the different words, the different languages we use do not matter, if we have a common mission to preserve through the word the memory of the Holy Brothers Cyril and Methodius, who, despite the political vicissitudes, should not oppose us but connect and bring us closer.
At the solemn assembly, Acad. Vladimir Zarev presented an academic lecture on the theme "On the holiday – 24 May". Congratulatory addresses from Prime Minister Kiril Petkov and the administration of President Rumen Radev were read out.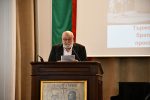 The celebration of the Day of the Holy Brothers Cyril and Methodius, of the Slavonic alphabet, education and culture and of Slavonic literature was also attended by the Deputy Minister of Education and Science Prof. Genka Petrova-Tashkova, the Deputy Minister of Innovation and Growth Karina Angelieva, representatives of the Board of BAS, members of the Assembly of Academicians and Corresponding Members, scientists from the scientific units of the Academy.
You can watch the VIDEO HERE