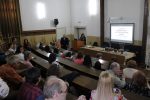 The National Anthropological Museum at the Institute of Experimental Morphology, Pathology and Anthropology with Museum solemnly celebrated its 15th anniversary.
The Director of the Institute Prof. Dr. Svetlozara Petkova opened the celebration by presenting the museum as a unique center of knowledge and preservation of cultural and historical identity but also a place to attract young people to open their heart and soul to science.
The celebration continued with a congratulatory address by the President of BAS – Prof. Julian Revalski, Full Member of the Academy, represented by the Scientific Secretary-General Prof. Dr. Neli Koseva with wishes for good health and fruitful work.
The Head of NAM Assoc. Prof. Dr. Atanas Katsarov made a presentation – a retrospective of the events in the museum for the past 15 years.  Special thanks were expressed to the team for their initiative, zeal and work well done.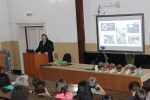 The event continued with a speech by Assoc. Prof. Dr. Racho Stoev dedicated to the founder of NAM Corr. Mem. Yordan Yordanov.
Congratulatory addresses were read on behalf of the President of the Republic of Bulgaria – Rumen Radev; by Acad. Nikolai Denkov – Minister of Education; NAIM – Sofia; Prof. Dr. Soren Hayrabedyan – IBIR-BAS; NC "Bulgarian Encyclopedia"; NAIM – Sofia and others.
The jubilee catalogue " Exhibitions in the Museum 2018-2021″, dedicated to the temporary exhibitions with medical themes, was presented during the celebration.