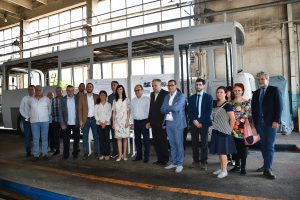 A prototype of a trolleybus, which Bulgarian scientists of BAS are transforming into a hydrogen-powered transport vehicle, was shown to the EU Commissioner for Innovation, Research, Culture, Education and Youth Mariya Gabriel, the Executive Director of the public-private partnership "Clean Hydrogen" Bart Biebuyck, and the President of BAS Prof. Julian Revalski, Full Member of the Academy. The development of Bulgaria's first demonstration project for hydrogen deployment in transport was presented at "Levski" trolleybus depot.
For the first time in Bulgaria the "retro fitting" method is applied to transform a trolleybus into a hydrogen electric vehicle. The trolleybus will not only be powered by overhead lines, but will also perform a 100-kilometre hydrogen run. The development is part of the implementation of the National Scientific Programme "Low-carbon energy for transport and domestic use – EPLUS", carried out under the leadership of the Bulgarian Academy of Sciences and funded by the Ministry of Education and Science.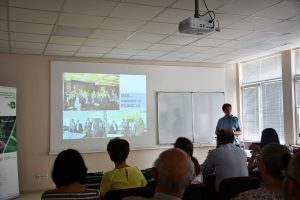 Commissioner Mariya Gabriel thanked the scientists of BAS for their work on the project. She noted that this project is an example of how at local level, combining elements of the past and ideas of the future, we can position Bulgaria on the innovation map of Europe. It will be of great benefit for people to be convinced of the usefulness of hydrogen technology, she said.
We are trying to create Bulgarian expertise and are doing the integration of such a system ourselves for the first time. At the moment in Europe, "retro fitting" is a very interesting topic because there are many vehicles whose lifetime can be used ecologically, Prof. Daria Vladikova from the Institute of Electrochemistry and Energy Systems (IEES) told journalists. We expect the trolley to be ready for demonstration in a few months, Prof. Vladikova specified.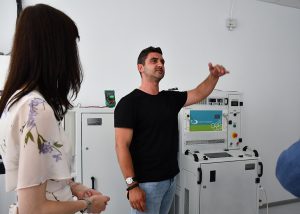 A meeting with Mariya Gabriel and Bart Biebuyck took place at the Institute of Electrochemistry and Energy Systems. The Institute coordinates two large-scale national clean energy projects: the " Storage of Energy and Hydrogen Energy (SEHE)", part of the National Roadmap for Research Infrastructure, and the Centre of Competence "Technologies for generation, storing and consumption of clean energy – HITMOBIL", funded by OP SESG. The director of the institute Corr. Mem. Evelina Slavcheva presented the progress of the projects and told about the latest achievements in the work of Bulgarian scientists on scientific initiatives, European projects and partnerships.
The modernized laboratories at the institute, where the work on the implementation of these projects is carried out, were shown. Among them is an application for an energy independent house ("green house") which has three types of electricity storage – with lead batteries, lithium-ion battery and hydrogen energy cycle, the scientists explained.
The programme of the visit of Commissioner Gabriel and Bart Biebuyck foresees participation in a discussion meeting "The future of hydrogen in Bulgaria" and in the initiative "Science and Innovation Days: Clean Energy. State and Prospects" which will take place in Stara Zagora.