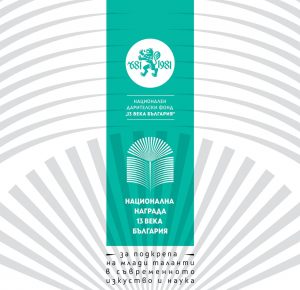 The award ceremony of the National Prize "13 of Centuries Bulgaria" for young talents in contemporary art and science took place on 1 July 2022 in the Ballroom of the Palace – National Gallery. The Prize is awarded every two years by the National Endowment Fund "13 Centuries of Bulgaria" for innovative achievements and postgraduate studies in European higher education institutions.
The distinction in the second edition of the competition was awarded to Dr. Ivalina Trendafilova. She obtained her PhD at the Institute of Organic Chemistry with Centre of Phytochemistry of the Bulgarian Academy of Sciences and is a postdoctoral fellow at the University of Namur, Belgium. The prize was awarded for her work in the field of novel porous nanomaterials with applications in medicine, pharmaceutics and environmental protection.
The chair of the jury, which determined the new winner of the award and the other three nominees, is Vesela Kondakova – Deputy Minister of Culture, and its members are Acad. Vassil Nikolov (National Archaeological Institute with Museum – BAS), Prof. Dr. Adriana Blagoeva (NMA "Prof. Pancho Vladigerov"), Prof. Dr. Penko Gospodinov (NATFA "Krastyo Sarafov") and Prof. Stanislav Pamukchiev (Union of Bulgarian Artists).
Deputy Minister of Culture Vesela Kondakova presented the special diploma of the award to its new winner – Dr. Ivalina Trendafilova, and the Executive Director of the Fund Slava Ivanova presented her with a work by a participant in the International Youth Art Festival "River of Tolerance".
Dr. Trendafilova highlighted the importance of the award for the professional development of young artists and scientists, as well as the motivation it gives them to continue their development in Bulgaria.