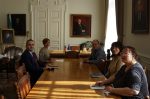 The cooperation between Bulgarian and Turkish scientists was discussed at a meeting of the President of BAS Prof. Julian Revalski, Full Member of the Academy, and the Ambassador of the Republic of Turkey in Bulgaria H.E. Aylin Sekizkök. The Bulgarian Academy of Sciences works within the framework of bilateral agreements with two Turkish scientific organizations: TÜBİTAK – the Scientific and Technological Research Council of Turkey and TÜBA – the Turkish Academy of Sciences. Scientists and PhD students from BAS and universities in Turkey carry out mobilities under nearly 30 Agreements funded by the Erasmus+ programme.
During the meeting, the possibility for BAS with its expertise in the field of historical sciences to participate in the celebration of the 100th anniversary of the Republic of Turkey through the organization of joint scientific forums was also discussed.
The talks were also attended by the First Secretary of the Embassy Mr. Ahmed Zeyrek, Prof. Ergyul Tair, Scientific Secretary in the Man and Society Division and Ms. Tomina Galibova, Department of International Relations of BAS.