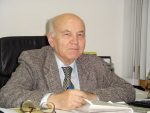 Academician Yachko Ivanov is one of the doyens of Bulgarian science, a highly respected and authoritative Bulgarian scientist-rheologist of international recognition. His scientific interests and achievements are in the field of rheology and microrheology of highly concentrated and structured dispersed systems; in the application and development of mathematical methods of experimental and simulation modeling; in the creation of new silicate and polymer-based composite materials, as well as in the study and optimization of their properties.
He is one of the founders of the Central Laboratory of Physical and Chemical Mechanics of BAS, of which he served as Deputy Director and Director.
Acad. Yachko Ivanov was Scientific Secretary of BAS, Professor and Visiting Professor at various universities in Bulgaria and abroad. He is a member of the American, British, French, European Society of Rheology, the New York Academy of Sciences, IPPS and IEA.
He was elected an academician of BAS in 2003.
Acad. Ivanov is honorary editor-in-chief of the Journal of BAS.
THE MANAGEMENT OF THE BULGARIAN ACADEMY OF SCIENCES WISHES ACAD. YACHKO IVANOV LIFE AND HEALTH AND CREATIVE LONGEVITY!