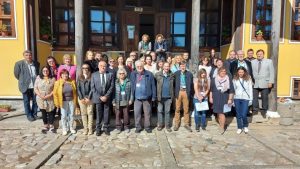 The 15th Congress of Bulgarian Microbiologists with international participation was held from 5 to 8 October in Koprivshtitsa. The forum was dedicated to the 200th anniversary of the birth of the world-famous microbiologist Louis Pasteur, the 75th anniversary of the Institute of Microbiology "Stephan Angeloff" at the Bulgarian Academy of Sciences and the International Year of Basic Sciences for Sustainable Development, declared by the UN General Assembly for 2022. A report on Pasteur's life and work was presented in his honour.
The Congress began with an opening lecture by Professor Colin Harwood of Newcastle University, UK, who is a member of the leadership of the Federation of European Microbiological Societies (FEMS). Various aspects of the Covid-19 pandemic were discussed, with distinguished experts in the field reporting on their achievements. Papers were also presented in other areas of microbiological science – General and Applied Microbiology, Medical Microbiology, Veterinary Microbiology, Environmental Microbiology, Virology, Food Microbiology and Infectious Immunology.
The congress was attended by more than 120 scientists, representatives of the scientific community from different thematic areas of microbiology in Bulgaria, Italy, Great Britain, France, Israel, Turkey, Russia, Romania and Albania. In addition to established scientists, many young microbiologists – young scientists, PhD students and undergraduates – participated. Two poster sessions were held during the event. The works presented were evaluated by an international committee which awarded the best poster to a young scientist.
The event is supported by the Bulgarian National Science Fund at the Ministry of Education and Science, the Bulgarian Academy of Sciences and business partners.