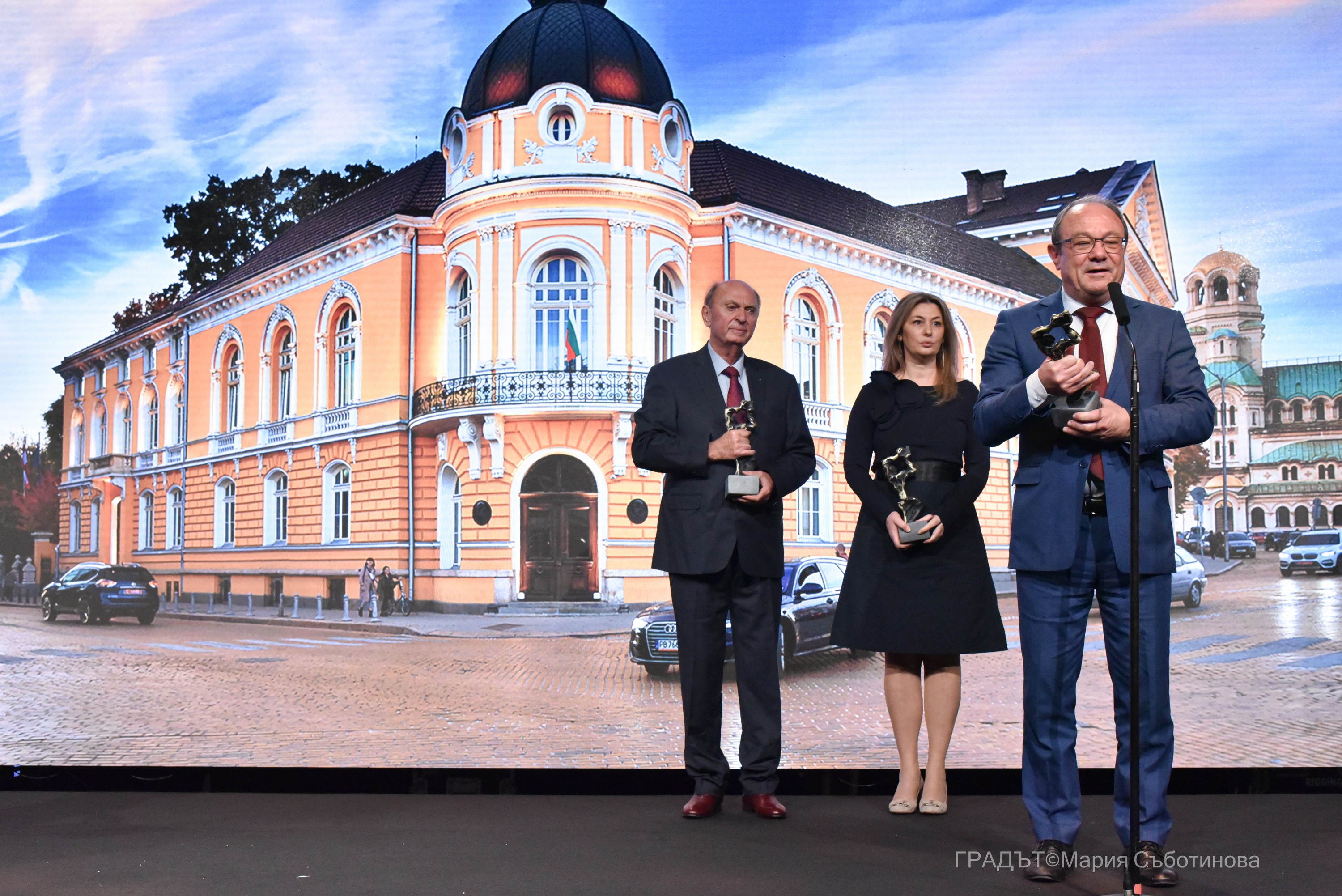 The Central Building of the Bulgarian Academy of Sciences (1, 15th November Street, Sofia) has been awarded a special prize "Conservation and restoration of facades/artistic elements and artistic lighting" in the category "Social infrastructure – culture, science and education" in the National Competition "Building of the Year 2022".
The annual awards were presented at a gala ceremony on 15 December at Sofia Event Center. The President of BAS Prof. Julian Revalski, Full Member of the Academy, received the award. Investor of the project is the Bulgarian Academy of Sciences – architect: Milena Krachanova, restorer: Aglika Ikonomova, artistic lighting: Rosen Yovchev and Eng. Marin Valchev and the contractor is the association "EM Building 2020".
In connection with the 150th anniversary of the founding of the Bulgarian Learned Society (now BAS), conservation and restoration works on the facades and their artistic elements and the implementation of artistic lighting were initiated for the Central Building of BAS. The aim of the project is to underline the importance of the building as a symbol of science and spirituality, as a key historical and urban reference and as a symbol of social engagement of generations.
The emblematic building of the Bulgarian Academy of Sciences is one of the most remarkable cultural and architectural values of Sofia. The building has basically three construction periods. The first period (1890 – 1892) was designed by architect Jacob Heinrich Meyer; the second (1906) – by the project of arch. Petko Momchilov, when two new bodies were added to the existing corner building; and in the third period, new construction was developed in the direction of "Alexander Nevsky" Cathedral.
Over the years, a number of repair and conservation and restoration works have been carried out, the first of which were to restore the building after the bombing during the Second World War.
The aim of the National Competition "Building of the Year" is to honour the best achievements in the realisation of modern building projects in the respective year in Bulgaria, as well as the investor, architect and builder associated with their realisation.
The participants in the competition are evaluated by the 33-member jury of distinguished professionals in the field of investment, construction, architecture, culture and academic society with chairman Prof. Dr. Arch. Georgi Stanishev.
The competition is organized by the The CITY Media Group and is held under the patronage of the Ministry of Regional Development and Public Works.