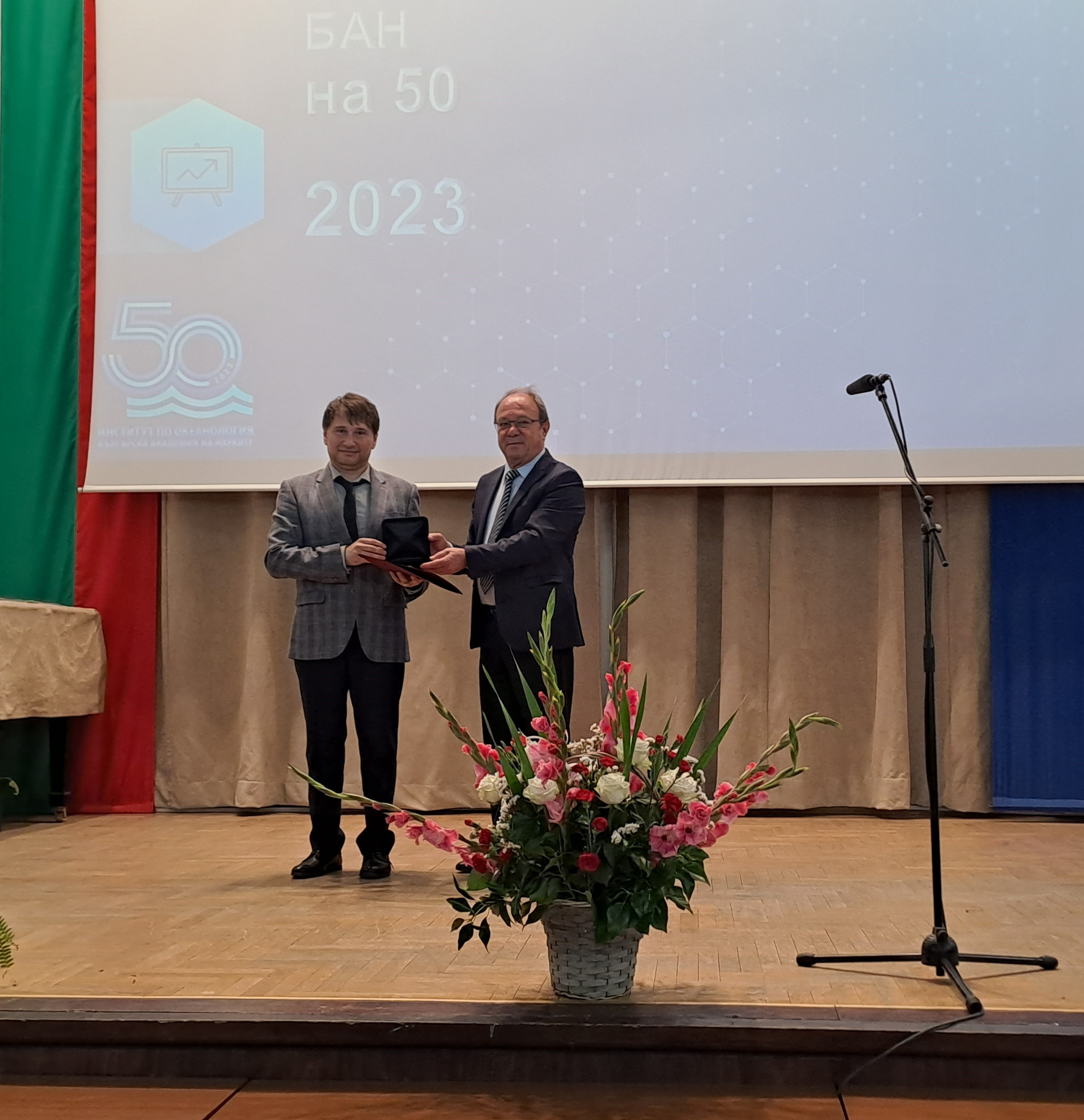 The Bulgarian Academy of Sciences awarded a GOLD honorary plaquette to the "Prof. Fridtjof Nansen" Institute of Oceanology – Varna for its significant achievements in the research, conservation and sustainable use of the Black Sea and its resources and on the occasion of the 50th jubilee of its foundation. The solemn celebration took place in the "Prof. Marin Drinov" Hall of the Bulgarian Academy of Sciences. The President of BAS Prof. Julian Revalski, Full Member of the Academy, presented a plaquette to the Director of the Institute Assoc. Prof. Nikolay Valchev and noted that this is one of the most interdisciplinary institutes in the Academy, emphasizing the benefit of real results. The institute is responsible for a number of activities, including monitoring the Black Sea and maintaining for years the first Bulgarian scientific research vessel "Akademik", the President of BAS said. He congratulated the scientists on the holiday and their active project activities and wished them future success.
The director of the institute, Assoc. Prof. Nikolay Valchev, thanked for the support of the Academy and awarded a medal on ribbon to Prof. Julian Revalski on the occasion of the 50th jubilee. This is the highest distinction of the Institute of Oceanology which is awarded to the President of BAS for academic contribution to the development of marine research and active support of the overall activities of the scientific unit.
During the celebration, Assoc. Prof. Nikolay Valchev presented the work of the Institute of Oceanology in three main pillars of development – tradition, innovation and education. He highlighted the leading achievements in the early stages of history, the current challenges facing marine science and how scientists are meeting them, as well as the active educational activities to raise the literacy of the younger generation regarding the oceans and seas. More than 50 projects have been implemented in the last 5 years, said Assoc. Valchev, who talked about the cooperation with Bulgarian and international organisations and the research networks with which scientists partner.
Scientists from BAS, SU "St. Kliment Ohridski" and state institutions were awarded the prize of honour of the institute. A poster exhibition showing the history and achievements of the institute over the years can be viewed in the foyer of the BAS until 18 July.
In Varna, the jubilee celebration will take place on 12 July. On 11 July, in the Europe Hall of the Festival and Congress Centre, a scientific talk will be held with the participation of Corr. Memb. Kristalina Stoykova and Prof. Valentina Todorova. The programme includes a screening of the film "Science of the Sea".
For more information, please visit http://io-bas.bg/
[/fusion_text][/fusion_builder_column][/fusion_builder_row][/fusion_builder_container]