Old Bulgarian Literature journal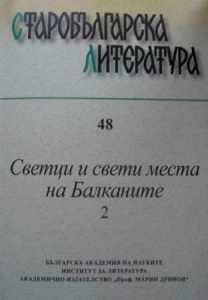 T he journal is a peer-reviewed edition with an international editorial board dedicated to medieval Bulgarian literature and culture and its Byzantine and European context. The journal publishes original literary and interdisciplinary Medieval studies, introduces novel and little-known written records into cientific circles; reviews of new books, surveys, current bibliography, presents scientific forums and events.
Old Bulgarian literature has been coming out since 1979 in two issues a year. It contains materials in Bulgarian, Russian, English and German with abstracts in English. The full text of the publications is available in the Central and Eastern European Online Library (C.E.E.O.L.) at: https://www.ceeol.com/search/journal-detail?id=281
Old Bulgarian literature is abstracted and indexed in ERIH PLUS (European Reference Index for the Humanities), the Slavic Humanities Index (Slavus), in JURN: An academic search engine indexing millions of free academic articles, chapters and theses in Ulrichweb (Ulrich's International Periodicals Directory) and in the Ministry of Science and Higher Education of Poland (ImpactFactor.pl).
ISSN (print) 0204-868X,
ISSN (online) 2535-0919
Printed.
In Bulgarian.
Edition of:
Institute for Literature
1113 Sofia
52, Shipchenski prohod Blvd., bl. 17