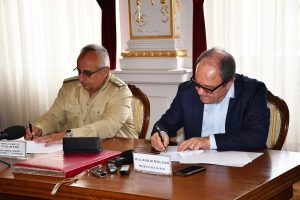 The Bulgarian Academy of Sciences and the "G. С. Rakovski" National Defence College have signed an Agreement on Cooperation and Collaboration in the "Royal Halls" complex today.
The ceremony was attended by the President of BAS Prof. Julian Revalski, Full Member of the Academy, and the Commandant of the National Defence College Major General Dr. Grudi Angelov and his team. On the side of BAS were also present the Scientific Secretary of the Information and Communication Sciences and Technologies division Assoc. Prof. Ivan Georgiev, the Director of the Institute of Information and Communication Technologies Prof. Galia Angelova and the Scientific Secretary of the Institute of Mathematics and Informatics Assoc. Prof. Krasimira Ivanova.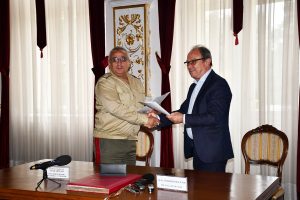 Through this agreement, the two parties declare their intention to lastingly unite their efforts in carrying out cooperation and joint activities to effectively use the resources, mechanisms, procedures and potential of both institutions in the field of education, qualification and research.
Such an initiative supports the efforts of both institutions to build a single European education and research area.