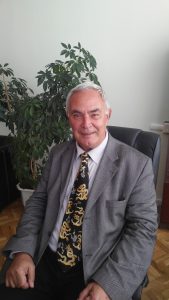 On September 20, 2021 at the Institute of Mathematics and Informatics was opened the International Conference Trends in Combinatorial Ring Theory, which is dedicated to the 70th anniversary of Acad. Vesselin Drensky.
The event is co-organized by the Institute of Mathematics, Statistics and Scientific Computing, State University of Campinas, State University of Campinas, Brazil and Memorial University of Newfoundland, Canada. The conference is also supported by the Bulgarian National Science Fund.
At the official opening of the event, guests were prof. Prof. Evdokia Pasheva, Vice-President of BAS, Assoc. Prof. Ivan Georgiev, Scientific Secretary of the Information and Communication Sciences and Technologies Division, Corr.-Member Nikolai Nikolov, President of the Union of Bulgarian Mathematicians, directors of institutes, laboratories, etc.
The event was officially opened by Prof. Peter Boyvalenkov, Director of IMI-BAS. Prof. Pasheva presented a congratulatory address from the President of BAS Prof. Julian Revalski, Full Member of the Academy, and wished the participants fruitful work. Special greetings to Acad. Drensky, the participants and the guests were presented by the Chairman of the Scientific Council of IMI – Corr.-Mem. Oleg Mushkarov and the scientific supervisor of Acad. Drensky – Prof. Yuri Bahturin.
The aim of the conference is to present the current state of research in the field of Ring Theory and its applications.
The event's impressive scientific programme includes papers by world-renowned scientists, including Fields Laureate Efim Zelmanov. The conference will be held in a hybrid format, with some of the papers delivered online via the ZOOM platform and some delivered in person at IMI-BAS. The main topics of the conference include:
Combinatorial and Computational Ring Theory
Group Theory
Тheory of PI-algebras
Commutative and Noncommutative Invariant Theory
Lie and Jordan Algebras and Superalgebras
Matrix Algebras
Turkish Journal of Mathematics will publish a special volume dedicated to Acad. Drensky.
For more information, please visit the conference website: