The Bulgarian Academy of Sciences celebrated the National Enlighteners Day with a solemn assembly. The celebration was held jointly with the Union of Scientists in Bulgaria.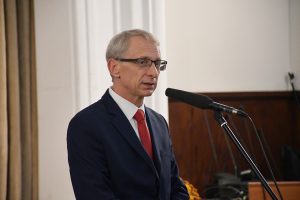 The Vice-President of BAS Prof. Evdokia Pasheva opened the festive assembly. The real enlightening is not in the loud phrases. It should be in each one of us – in our selfless actions and deeds, and in our sincere gestures, said Prof. Pasheva.
Minister of Education and Science Acad. Nikolai Denkov congratulated the scientists on the holiday.
A welcoming speech on behalf of the Board of the Bulgarian Academy of Sciences was delivered by Assoc. Prof. Dr. Elka Traykova, Scientific Secretary of BAS in the division of Cultural and Historical Heritage and National Identity.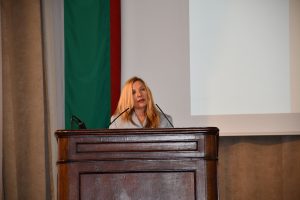 Prof. Roumiana Preshlenova, Director of the Institute of Balkan Studies and Centre of Thracology of BAS, delivered an academic address on the topic "Women in Science".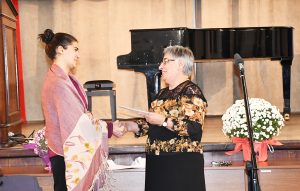 During the festive assembly, awards of the Union of Scientists in Bulgaria (USB) were presented. The President of USB Prof. Diana Petkova awarded the winners in two categories: for significant scientific achievements in doctoral dissertations – scientists up to 35 years and for high scientific achievements 2021.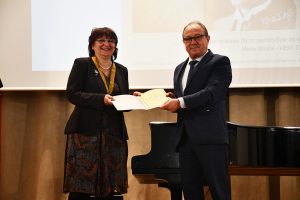 On the National Enlighteners Day, the President of BAS Prof. Julian Revalski, Full Member of the Academy, presented the Honorary Badge "Prof. Marin Drinov" – ribbon to Prof. Evdokia Pasheva. The award is for a significant contribution to raising the authority of the Bulgarian Academy of Sciences in Bulgaria and abroad and on the occasion of her 65th anniversary.
The Central Library of BAS presents an exhibition from the series "Periodicals and Literature" – first attempt for a comprehensive scientific study of the literary periodical press from the Liberation to 1944.  The publication is a rich source of unknown facts from Bulgarian cultural history. The exhibition can be viewed online.
A recording of the solemn assembly can be viewed at: https://www.youtube.com/watch?v=FTblj9-skkI